This year marks the 23rd anniversary of the College of Education and Human Development's Nevada Math & Technology Camp. It is the first time the camp was offered in person since 2019 and the first time the camp was coed and in person. After more than two decades as a girls-only camp, it was offered online as a coed camp in 2021.
This residential camp for middle schoolers aims to enhance mathematics skills and build awareness of mathematics-based careers. Program staff includes a mix of veteran teachers and upper-division pre-service or beginning teachers.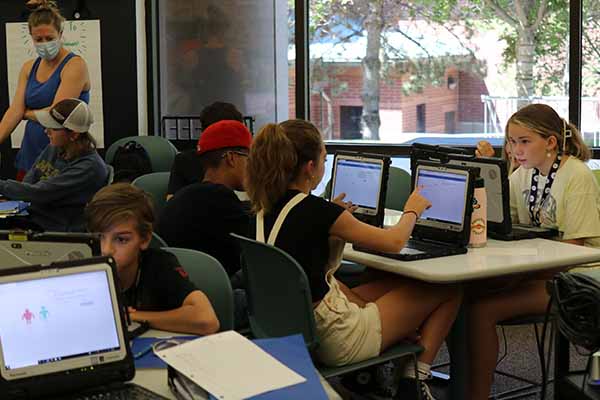 Campers learning about math while playing fun games.
One of the instructors, Allison Crawford, received her master's degree from the University of Nevada, Reno in 2022 and is a math teacher with Clark County School District in Las Vegas.
"I traveled to Reno to work for the camp because there aren't any other programs like this in Las Vegas that I am aware of," Crawford said. "Middle school is the most difficult time for students – academically, emotionally and physically. By coming to Reno, I can share a different perspective with the students since I teach in a different area. The camp focuses on independent problem solving. I let the youth work the math problems out with each other to encourage student-driven thinking. Then we discuss the solution together." 
The Nevada Math & Technology Camp is intended to increase students' knowledge, skills and confidence in mathematics and technology in order to enhance mathematical and technological competence in personal, academic and occupational lives. Role models and professionals from math and technology fields also participate as guest speakers during the sessions.
"I like this camp because math is everywhere and fun to play with," said Tilli, a 7th grader from Swope Middle School. "I am interested in being a biologist, and math is integrated with science. I chose this camp because it sounded awesome to meet other kids interested in math. I really enjoy learning about spatial thinking and staying in the dorms. Everyone is so nice. The meteorologist I met was awesome."
Campers were placed in small groups so they could ask questions and talk to professionals in the STEM fields. This allowed the youth to see these role models as real people and break down stereotypes on what type of people go into the STEM fields. Some of the mentors included local meteorologists, engineers and geologists.
Instructors base their lessons on the Nevada Math Standards established for the grade level the students will enter in the fall. They employ research-based teaching methods endorsed by the National Council of Teachers of Mathematics, including a constructivist orientation to learning. Math topics covered in the camp include problem solving, geometry, spatial skills, data analysis and probability and algebra.
"I really liked the people I met here," Spencer, an 8th grader from Billinghurst Middle School, said.  "Swimming in the pool is the best. I also liked playing Desmos at camp. There are fun games and challenges with geometry and algebra."
Almost 40 rising 7th and 8th graders from northern Nevada attended the camp, stayed overnight in the Peavine Hall dorm and enjoyed activities around campus. The program exposed the students to the college experience in a relaxed, fun atmosphere. Staying in the residential halls also allowed students from outside of the Reno-Sparks area to participate.
"My school doesn't get a lot of opportunities like this," Gina, an eighth grader from Adobe Middle School in Elko, said. "My math teacher recommended this camp to me. This is my first time going to camp. I was really nervous, but everyone was really welcoming, and we are all here for something we like. I liked seeing the University and walking around to different areas on campus. It was cool!"  
Assistant Camp Director Heather Crawford-Ferre reported that almost half of this year's campers came from rural areas.
"The residential nature of the camp allows rural students to be exposed to a large college campus who might not otherwise have an opportunity at this age due to how geographically disperse our state is," she said.
Nevada youth of all academic abilities and backgrounds were encouraged to participate in the camp. The camp was able to provide 10 scholarships to students who qualify for the U.S. federal government's free or reduced-price lunch, thanks to generous sponsors. This year's sponsors included Nevada Gold Mines, Frances C. and William P. Smallwood Foundation, Panasonic Corporation, Active 20-30 Club of Reno, AAUW Lake Tahoe and Port of Subs.
 "Sponsors are a vital part of our program that allows youth from various backgrounds to participate in this program," Camp Director Lynda Wiest said. "By giving to our program, they are supporting Nevada youth in their personal and academic lives, as well as helping to build a qualified pool of math/science-oriented workers for our state."
The camp is led by University professor Lynda Wiest and Nevada Department of Education professional Heather Crawford-Ferre. Wiest has been the camp director since its inception in 1998, and Crawford-Ferre has been with the camp since 2007.
Wiest, Professor of Mathematics Education and Educational Equity, received the national-level Louise Hay Award for Mentoring last year for her contributions to advancing the field of mathematics education.
"I'm there the entire week, and I'm popping in and out of the rooms all day long and participating in some of the evening recreation," Wiest said. "I get to see the light bulbs going off, see them learning, see them coming out of their shell and learning to talk in the classroom and the safe setting that we create, and they're not afraid to engage with math and to talk about it."
One of the former campers, Krystianne Vega, is now studying Biomedical and Electrical Engineering at the University and is anticipating graduating in Spring 2023. Vega attended the camp as a youth almost 10 years ago, subsequently volunteered for the camp for five years, and is now in her second year as an instructional assistant. Her older sister is also an instructor at the camp, and her younger sister serves as a volunteer.
"This camp inspired me to feel confident," Vega said. "It also got rid of the stigma of math being nerdy. I have a lot of connections that I have made through the camp that I have had for the last 10 years. It is such a rewarding experience to give back to the camp."